Havana Ferry Partners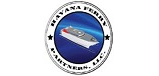 Formed in late 2009, Havana Ferry Partners is aiming to become the primary ferry service provider from South Florida to Cuba.
Havana Ferry Partners is hoping to provide an economical way for Cuban Americans to visit friends and family in Cuba as well as offering a whole new experience for those who are yet to have the privilege of visiting Cuba.
Proposed service
Havana Ferry Partners is planning to run two services between Florida and Cuba. The shorter trip is likely to run from Key West utilising a two hundred person capacity vessel while a longer overnight crossing from Fort Lauderdale would utilise a five hundred passenger capacity ferry. The on board experience is expected to include all the necessary passenger amenities including food, beverage and entertainment as well as gaming if possible.
Havana Ferry Partners expect to attract some hundred thousand passengers annually with ferry tickets cheaper than air fares and large free baggage allowances.